Lovemybooks is for parents, carers, teachers, schools, and early years staff, created by literacy experts. Free and ad free with over 250 activity pages full of creative book-based ideas.
SIGN UP TO OUR NEWSLETTER to see new books, activities and ideas
NEW BOOKS AND ACTIVITY PAGES
OUR BOOK IN FOCUS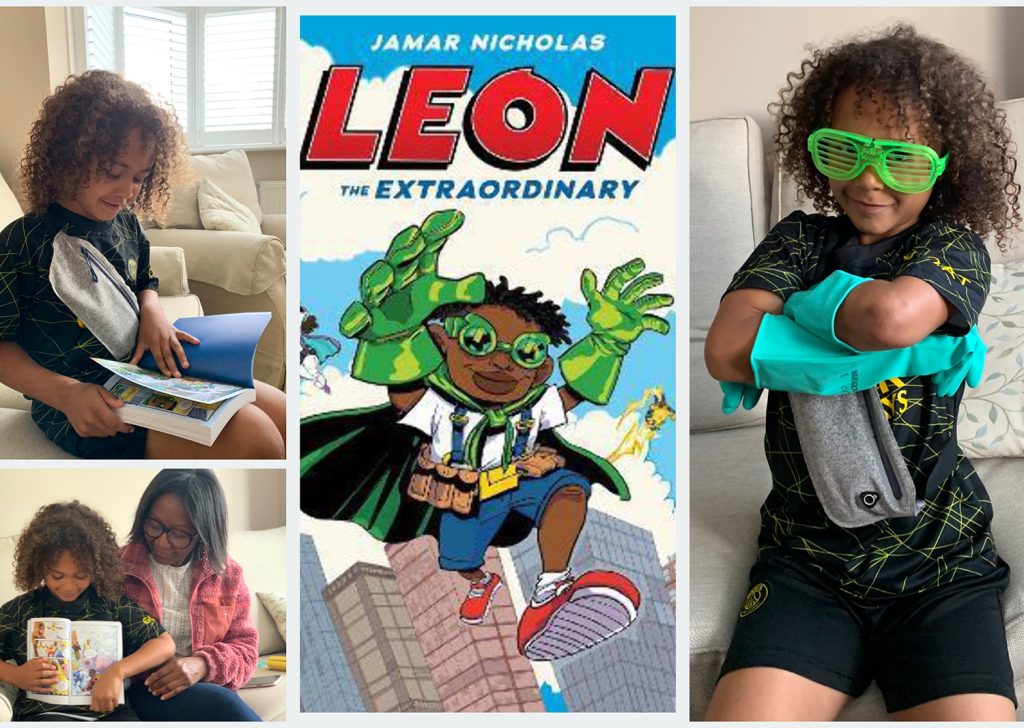 Leon the Extraordinary by Jamar Nicholas   Age 7-11
Leon lives in a city where many people have superpowers – some are heroes, and some are villains. Although he dresses the part, Leon doesn't have special powers. However, when a new phone app starts controlling the minds of his classmates, he discovers his special skill – problem solving. He successfully unmasks the villain and saves the day.
This is an engaging graphic novel with a well thought out cast of characters and lots of superhero comic fun. It provides plenty to think about, including what makes a hero and how to make good choices.
See our activity page
Buy the book
See more books about Heroes and Villains
MESSAGE TO PARENTS FROM SONIA THOMPSON, BIRMINGHAM HEADTEACHER
Sue McGonigle from Lovemybooks recently interviewed Sonia Thompson, Head Teacher of St Matthews C of E Primary School, Birmingham. See whole video
See Sonia's message to parents below.
OUR TOP 10 MUSIC AND DANCE BOOKS
Our brand-new collection includes both stories and non-fiction. These books celebrate the joy of music and dance, encouraging families to listen to the musical sounds around us, make music and have fun moving to rhythms together.
TYGER by SF SAID WINS CHILDREN'S BOOK OF THE YEAR
Congratulations to TYGER by SF Said, illustrated by DaveMcKean, which is winner of Book of the Year: Children's Fiction at the British Book Awards. All the judges agreed that the book already "felt like a classic".
SF Said says 'I put 9 long, hard years of my life into writing TYGER because I believe children's books are the most important books of all. So it was beyond incredible to see it win Children's Book Of The Year at the #BritishBookAwards. Thank you @thebookseller @theweekjunior & the judges!!!'
See our Tyger activity page
CONGRATULATIONS TO OUR PATRONS 🧡 🧡 🧡
Award for Michael Rosen
Congratulations to Lovemybooks' patron Michael Rosen on winning the prestigious Pen Pinter prize for his fearless body of work including his writing for children. Ruth Borthwick one of the judges said Rosen has "championed a way of writing for children which reflects their everyday worlds, using humour and wordplay to validate their imaginative ways of thinking and being", said judge and chair of English PEN, Ruth Borthwick. Read more here: Author Michael Rosen wins 2023 PEN Pinter prize for 'fearless' body of work | Books | The Guardian
---
The Island of Brilliant
Interested in children's books? Another of our wonderful patrons Frank Cottrell Boyce has launched a great podcast with author illustrator Nadia Shireen entitled The Island of Brilliant The Island of Brilliant! | a podcast by Frank Cottrell Boyce and Nadia Shireen (podbean.com)


---
---
DAVID ALMOND
David received an OBE for services to Literature in April. He has also received two international prizes this year, the Nonino International prize one of Italy's most prestigious literary prizes and the James Kruss prize awarded to a living author of children's and YA books distinguished by linguistic brilliance originality imaginative storytelling and cosmopolitanism.

Visit our activity page for David Almond's Tale of Angelino Brown and The Boy who Climbed into the Moon
---
JOSEPH COELHO
We are utterly delighted to announce that award-winning poet, playwright and author Joseph Coelho is the brand new Waterstones Children's Laureate!
---
JULIAN GRENIER
Julian receives a CBE in the Jubilee Honours list. He is a Headteacher and National Leader of Education and one of our first patrons. Julian is a dedicated pioneer in early years education and has a particular focus on young children's communication and early literacy. He has a doctorate in education (EdD).
Visit the website of Sheringham Nursery School where Julian is Headteacher and see the Teaching School Programme at www.sheringham-nur.org.uk

Julian blogs at www.juliangrenier.blogspot.co.uk You can follow him @juliangrenieR
WELCOME TO LOVE MY BOOKS
What people say about Lovemybooks
The activities brought the story to life! Elena, Parent

Lovemybooks is a treasure trove of well researched guidance on books and reading Alex Law, Head teacher

Everything I think is important about Lovemybooks is right there in its name!
SF Said, author
You can search the Lovemybooks website for:

* Topics and themes…
Our specially chosen books are arranged in topics and themes that young children love, with ideas for ways to share the books and lots of exciting things to do Read more…

* Books for different age groups
Find books for children aged 0-3, 3- 5, 5-7, 7-11 Read more

* Our Top 10 book lists
Whether you want to find out about exciting new picture books, alphabet books, folk and fairy tales or story apps you'll find them here in our Top 10 books sections Read more…